We talk to 11 Judo Coaches On A Mission And Get Ideas You Can Copy And Use To Grow Your Dojo
How you use the Koka Kids set of tools is only limited by your imagination.
Hundreds of coaches are already using the magazine in ways I hadn't imagined at judo clubs large and small.
Some of their ideas might work for you too.
We talked to eleven judo coaches and asked them how and why they used the judo magazine at their club.
Here's what they said:
1.JUDO COACH: Peter Gardiner 
Uses the Magazine To Create a Judo Skills Circuit
The Coach
Peter Gardiner (6th Dan) has spent a life-time in judo. He has not only built Sportif Judo into a succesful club but also into a growing business educating coaches in seminars around the world. If you haven't been to the Sportif International that Peter organises annually, do so sooner rather than later. It's one of the best tournaments of the year.
The Mission? 
Peter says, "Our club strap line is the famous Jigoro Kano quote that "Judo makes people" and at Sportif we really do try to encourage and motivate every member to be the best they can be. We try to help to build self confidence, create positive people, create good people. Thats our motivation as coaches."
How Peter Uses Koka Kids?
"Koka kids is used in several ways at Sportif. Firstly kids are encouraged to read the magazine at home and we ask questions during class. "Who can tell me the superstar player in Koka Kids?", or "What was your fave throw in Koka Kids?"
Or we use it in the lead up to gradings. We have laminated pages from the magazines and have the kids point to throws, name throw or demonstrate throws. Also we put the laminated pages on the mat as stations and the kids have to move round the stations doing the throws (a judo skill circuit.)
We use every single tool that we can to  make judo interesting. Koka Kids is a brilliant tool, very informative, visually brilliant and most importantly it is pitched  at the exact level and quality that kids need. It is the best resource without a doubt."
---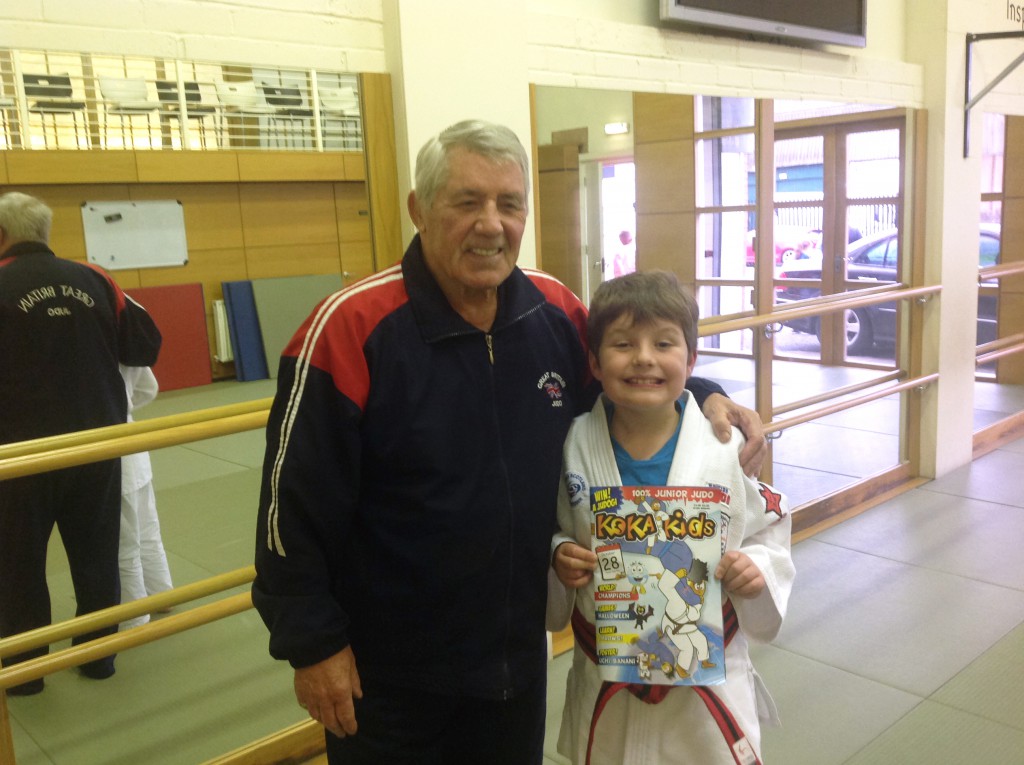 ---
2.

JUDO COACH:

Dave Edmunds & Tom Haynes 
Uses the Magazine To Showcase Their Judoka's Achievements
The coaches
Dave Edmonds (MSc. BA. 5th Dan) is an EJU Level 6 Master Coach and that speaks volumes. His judo knowledge is vast and varied and guaranteed to draw you into conversation! Dave, along with his team of qualified coaches including Senior Coach Tom Haynes (2nd Dan) teaches judo in over 50 schools throughout the Thames Valley. During any term the Iinkai team will bring judo to over 1,000 young people. That is quite something!
The Mission? 
Tom says, "Our mission is to provide children with the opportunity to learn judo and develop the qualities that judo engenders. These are: 1) Self Confidence. 2) Working with others. 3) Sportsmanship. 4) Discipline. These valuable skills will then help them to become value members of society."
How Iinkai Uses Koka Kids?
"We use Koka Kids to write up our termly reports. The children love seeing themselves in the magazines. We include photographs and the names of the judoka who have done particularly well at Iinkai gradings or training days.
The children really enjoy seeing the Master Classes in the magazine. They love it when they realise that a technique they are learning is used by the world's elite competitors.
It helps to show the children who are the best judoka on the planet.
It gets them interested in the sport.
We refer back to the magazine when we teach a technique. And we use the drills; Koka Kids is a good coaching tool."
---
Uses the Tshirts to Reward Attendance
The Coach
Richard Jones is having a great year. Irfon judo club was voted Club of the Year (silver award) by British Judo and Natalie Powell, who started with Richard when she was younger, has just won a bronze medal at the Paris Grand Slam. Richard's approach to judo is a dynamic one, with lots of ideas keeping his young judoka wanting more. Irfon Judo Club is on the up!
The Mission
Richard says "We aim to nuture trust, learning, co-operation and respect for others. So that everyone has the opportunity to learn and maximise their potential. We believe in using traditional judo values in a safe and friendly environment."
How Richard Uses Koka Kids
"I think attendance is important, as it is essential for long term development. So we give all our young judoka a Koka Kids T-shirt when they have been a member for a year.
I feel by giving judo related merchandise we encourage our judoka to be an active member of the club.
And it promotes our sport.
They all enjoy wearing them in and out of the club.
It is the second batch of Koka Kids tops we have had and the judoka love them! The parents feedback has been good too."
---
4.JUDO COACH:Stephen & Anne Marie McCluskey

Uses the Magazine to Encourage Further Study of Skills
The Coaches
Stephen Mc Cluskey has represented Ireland all over the world as one of the country's leading competitors – winning the World School's title. Now passionate about coaching, Stephen leads The Judo Academy. It is thriving! Over 450 children participate in classes weekly taught by Stephen and Senior Coach Ann Marie McCluskey and their team.
The Mission?
Stephen says "We believe in technique over strength. The Judo Academy aims to provide excellent fundamental, technical judo coaching to all members using traditional judo values and progressive coaching techniques."
How the Judo Academy Uses Koka Kids
"We use Koka Kids magazines to encourage further reading, study and development of skills in a fun way.
The magazine is simple yet informative and is fantastic fun for the kids.
We use it as an incentive – and give them away as prizes.
As coaches, we also use Koka Kids, to improve our coaching skills and learn new, or old ways, to develop techniques."
---
5.

JUDO COACH:

Larry Stevenson 
Uses the Magazine To Advertise What is Coming Up to Members.
The Coach
Most of you will probably know Larry Stevenson – the competitor and the coach with a big personality but did you know that Larry also represented GB at the first World Sumo Championships? Larry is the head coach at Europe's oldest dojo The Budokwai in charge of Judo Games, Mini, Midi and Junior Judo classes where needless to say the kids adore him.
The mission?
"Teaching has always been an integral part of my Judo, seeing the delight on children's faces when they have had a brilliant time on the Judo mat, brings a lot of pleasure to me. My biggest aim is to make sure every child has the same experience that I had."
How The Budokwai Uses Koka Kids
All our junior members get a copy – and inside each issue we let them know about the camps and classes that are coming up.
We have a page advert in each issue and all our members get to see that as we give each junior a copy.
It's a great reward mechanism for good behaviour and hard work."
---
How you the judo coach can subscribe to this magazine and get Club Rates. 
Find Out More Info
---
6.

JUDO COACH:

Mark Fricker 
Uses the Magazine To Help Kids Understand They are part of a wider judo world.
The coach
Mark Fricker has broad shoulders. And a good job too. Because a few years ago he took over from the legendary Don Werner as the Sensei of Pinewood Judo Club. Mark has lived up to all expectations, and has already produced National Champions. Like he says, "If you were to cut me in half, like a stick of rock you would fin the word Pinewood right through me."
The mission?
To foster physical and psychological development through Judo
How Mark Uses Koka Kids
"Koka Kids has proved a fantastic resource within both my club and school judo lessons.
When I asked a 5 year old to demo Yamarashi and he asks "which one? The standard grip or Illiadis one?" Then, I know Koka Kids Magazine has done a good job!
I would add that the club news items and articles about famous players helps inspire them as well as understand that they are part of a wider judo world."
---
7.

JUDO COACH:

Janice Knight
Uses Koka Kids to reward children who have overcome difficult situations
The coach and the Mission
Judoknight was founded in 2008 by Janice Knight, a former British International and Commonwealth champion, who had the vision to "Bring Judo to the community, making it a mix of sport, fitness and fun for everyone. Judoknight now works in 30 primary and secondary schools around Cumbria – the vision is a reality.
How Janice Uses Koka Kids
"I use the magazine reward children who have either improved in their Judo, behaviour or have overcome difficult situations etc. This little carrot has worked really well when trying to encourage a variety of levels, abilities and personalities to work together and support each other for everyone's benefit!"
---
9.JUDO COACH: Kerry Tansey 
Uses the Magazine to Break down nervous barriers.
The Coach
Former GB International Kerry Tansey has helped club development throughout the North West of England, as part of her role as technical officer for the British Judo Association. Kerry also teaches at her own club, Rainhill Rockets where most of the members are under 12s.
The Misson?
To provide a great judo service where they learn, develop and have fun.
How Kerry Uses Koka Kids
"We include the Koka Kids magazine in the yearly membership. Any spares are used to welcome new children, it helps to break down nervous barriers as they come into the club for the first time, which can be a daunting experience. Koka Kids is child friendly and informative."
---
9.

JUDO COACH:

John Law 
Uses Koka Kids Posters To Advertise the Club
The Coach
John Law is busy rebuilding the Mei-Do-Kan Judo club that his dad, Mr John Law Snr orginally opened in 1980. It's a small club, with around 30 members at the moment which is looking to grow.
The Mission?
Judo for life – Mei-Do-Kan Judo club aims to teach not only the sport of judo but to promote the spirit of judo in a fun and dynamic learning environment. 
How John is Using Koka Kids
"I have only had chance to use the posters to advertise the club and a few certificates for a club competition at present. As the club grows and we acquire more funds we will purchase and use most of the resources from Koka Kids. 
The resources created by Koka kids are brilliant for not only visual learners but also kinaesthetic learners, because they can practice the techniques while viewing the resources. They are colourful, well illustrated and contain brilliant characters which my junior member love."
---
How you the judo coach can subscribe to this magazine and get Club Rates. 
Find Out More Info
---
10.

JUDO COACH:

Robin Sandler 
Uses the Magazine To Create Heroes
The Coach
Robin Sandler keeps the kids at Sandbach inspired inviting the best fighters in the country to come along to meet them. He believes junior judo need heroes. Recent visits include Commonwealth Champion Owen Livesey and Olympic bronze medallist Karina Bryant. It's also a club very much about family time – and Mum, Dad and the kids are all encouraged to take part.
The Mission? 
Our objective every session is to get people moving, learning, stretching themselves. I want everyone to leave every session tired, empowered and with the most important thing – a smile!
How Robin Uses Koka Kids
"I like the fact Koka Kids opens judo up to kids – makes them realise that like football and rugby, judo is out there for them to read about, take part in and aspire to be a player!
It doesn't matter. To get that yellow belt or that Dan grade – they are both as amazing as each other!
We encourage the members to read about judo history, judo techniques and judo players – we also like to give them the chance to meet and take part with their heroes!
The link between club judo and the world wide aspects and benefits of judo are important.
Junior Judoka need heroes.
That can be their coach or an Olympic Champion.
I want their judo to continue outside the club.
I want their day to have judo in it! So they ask themselves: what technique am I going to do tonight? What is my favourite hold down? This is very important."
---
11.

JUDO COACH:

Andy Parton
Uses Koka Kids Certificates to Encourage Positivity
The Coach
Andy Parton is about bringing judo to everyone. Miramar is an alternative to the high pressure sporting world, looking to build respect around being postive, hardworking and not necessarily about being the best. Although competition is encouraged also for those who want to pursue that path.
The Mission?
We are trying to offer an alternative to the high pressure sporting world that puts so many youngsters of ever excelling in sport for fear of failure.
We encourage competition for those that wish to pursue that path but also understand that that arena is too daunting for some.
How Andy Uses Koka Kids
"We print out the certificates and use them around our Player of the Week Scheme.
Some of our families subscribe to Koka Kids through the club, which we subsidise. Others earn their copies through winning challenges, for learning how to break fall, for being positive etc.
My players know they don't need to be the best, but they must be trying their best.
Also I use Koka Kids when I want an idle day as there are ready made lesson plans.
There are some very clever ways of coaching particular throws and there are some great posters for the kids to use as well."
---
---
How you the judo coach can subscribe to this magazine and get Club Rates. 
Find Out More Info