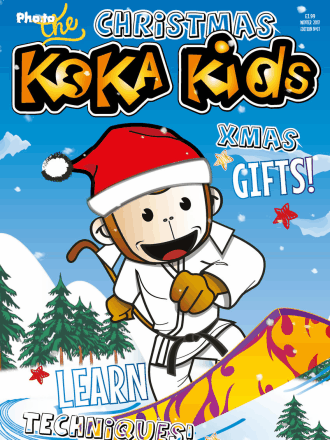 A Club Subscription – could be a great gift for your judoka!
It's not too late to get the Christmas Edition of the Koka Kids Judo Magazine ordered for ALL your club members! Give it out at your Christmas party, on the last session of this term – and keep their interest in judo going.
6 Easy Ways You Could Use Koka Kids at YOUR Dojo and Keep Judoka Interested in Judo!
1 – Laminate the judo technique pages, have the kids point to the throws, name the judo techniques or demonstrate the throw.
2 – Use the drills in the magazine to give you some new ideas on how to teach a technique. In the Christmas edition there are 8 drills to help practise Ippon Seoi-Nage and Tate Shiho-Gatame and Mae-Ukemi.
3 – Give the magazine as a prize to reward outstanding effort or attendance.
4 – Publish a club advert inside the magazine letting your members know about camps and classes that are coming up.
5 – Inspire your judoka. Let them read about famous players and understand that they are part of a wider judo world. In the Christmas edition we interview World Number 1, Natalie Powell. There is a poster of Natalie for the juniors to keep.
6 – Keep some copies in your club to give out to new children or at taster sessions, it helps to break down nervous barriers as they come into the club for the first time.
7 – Print up the certifcates and posters
So, how to Subscribe?
See the rates here at the Koka Kids. If you need more than 100 copies get in touch for a discounted rate.
Then it's easy. You sit back, and every term we will send your magazines to your doorstep, for you to hand out to your judoka just like Santa.