A kids judo gi: we introduce the Hajime Gi, ideal for children starting judo. 
You can buy the Koka Kids Hajime Suit in our Judo Shop.
A Kids Judo Gi:
made by Fighting Films and Koka Kids. 
Now there's a team for you! 
When Fighting Films suggested we should do a children's judo suit together I jumped at the chance.
A children's judo suit made by one of the best judo companies in world judo. Yes, please!
Fighting Films judo suits are worn by judo superstars, club players and coaches from all over the world.
See who wears Fighting Films here; world and olympic champions who choose to compete in their premium IJF Superstar 750, and club fighters who prefer the Black or Red Label Label Gi. 
Fighting Films have excellent judo suits and I knew if they were going to do a starter kit for children it was going to be quality.
So we began to get our heads together with the idea to come up with something a bit special for the judo kids out there.
And cue: The Hajime Gi!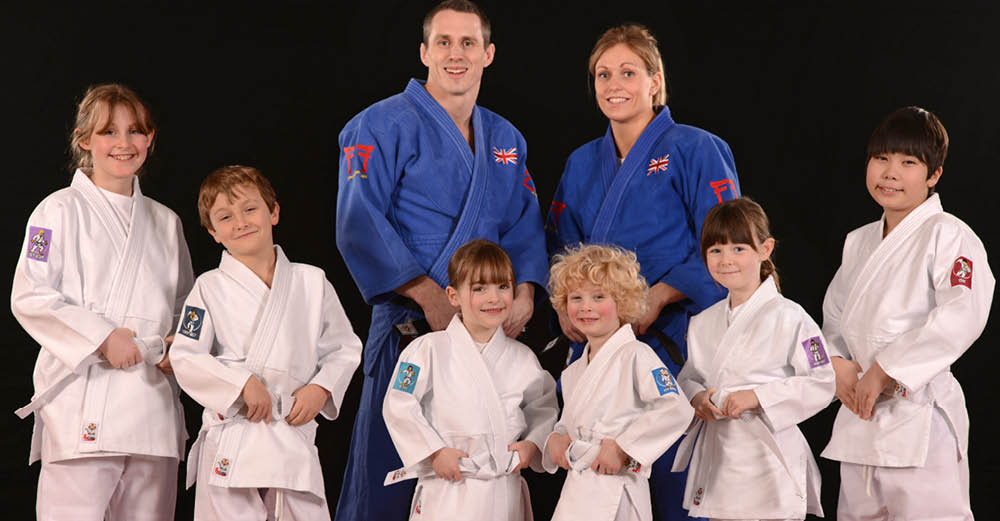 The Kids Judo Suit – with a personality
Hajime means to begin in judo, and this kids judo gi is aimed at children starting judo hence its name the Hajime Gi.
As you'd expect from Fighting Films it is strong, light and beautifully finished. It also comes complete with a white belt, so no need to spend extra to buy a belt.
But there is something that stands this judo suit apart from other kids gis out there and that is this:
This kids judo gi has a personality!
Quite literally, it does!
On the sleeve.
Each judo gi has a different woven badge on the shoulder showing one of the popular Koka Kids characters including our readers favourites like Harry Goshi and Yoshi.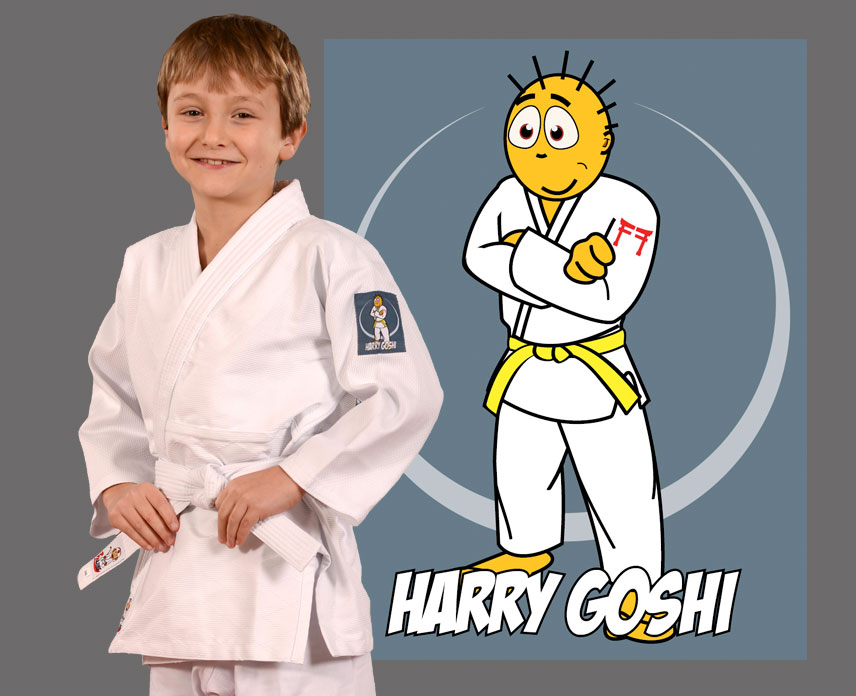 You can choose for a judo gi for a boy or a girl, with different sizes starting at 100cm and going up to 150cm.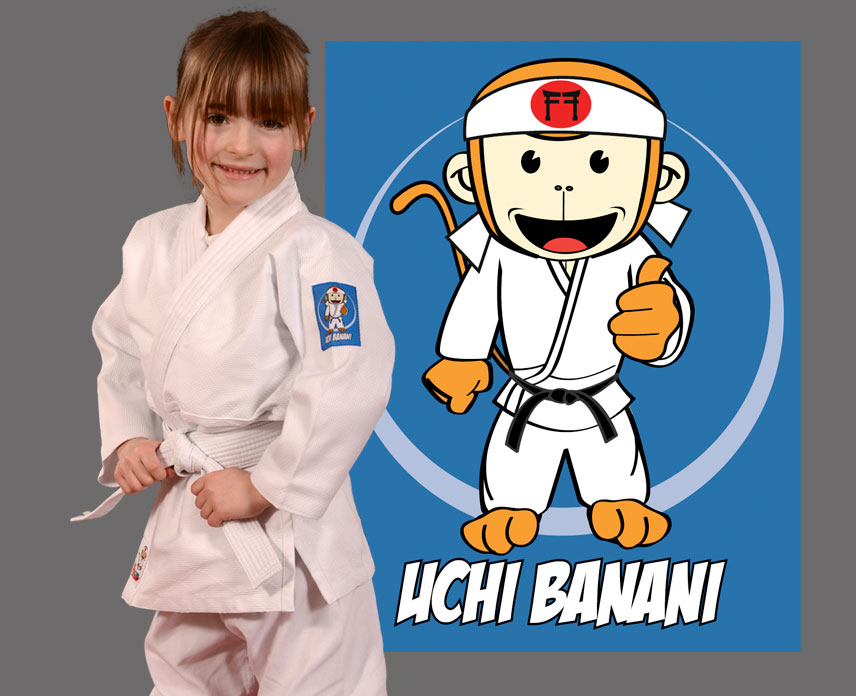 Uchi Banani – the judo monkey features on the belt and base of the lapel.
This is a kids judo gi that children love wearing. They recognise the characters from reading the Koka Kids magazine and identify with them. 
The Koka Kids Hajime Suit is available from the Koka Kids Judo Shop.
What is a judo gi?
Judo gi is a Japanese word and it means Judo suit.
This is what all judoka (people who do judo) will wear when they go to the dojo (judo hall) to practise judo.
The judo gi comprises of three pieces: a judo jacket, judo trousers and a judo belt.
Are you looking to buy judo gi for your club?
Please contact us for Club Rates to buy the Hajime Gi Judo Suit and sell from within your own judo club shop.
The Hajime Gi Judo Suit Launch
A day with L2012 Olympic silver medallist Gemma Gibbons and world medallist Euan Burton as we launch this rather special kids judo gi.
Our thanks to Gemma and Euan who took time out to hold an impromptu judo session at the photo shoot for the The Hajime Kids Judo Gi: